Wood, Plastic and Metal Batons
We can offer

multiple

types of batons and night sticks:
imported economy models made of wood

imported plastic models from Rothco, JayPee

made in the U.S.A. models by HWC

professional grade models of polycarbonate and metal

Monadnock Lifetime® batons

and

expandable batons
|wood| |plastic batons| |professional grade| |Monadnock fixed and expandable| |baton stops|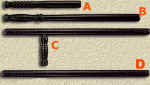 A line of economy wood nightsticks and batons. Great for stage productions or for practice.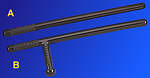 Several lines of ABS plastic straight and PR-24 type side handle batons for general purpose use. From Rothco, JayPee and HWC.
For the professional, heavy weight polycarbonate and aluminum straight and PR-24 type side handle batons. From Rothco and HWC
The definitive baton widely used by police departments. Crafted of polycarbonate and high strength metal, includes expandable designs.
With Monadnock's lifetime® warranty
Baton Stops and Holders
Baton stops are used to prevent straight style baton from falling through a ring style baton holder (see picture at right; click on the picture for our selection).
(Note: the T-handle batons do not need a stop)
LAPD tapered grommet
Rubber grommet