Three special design keys to replace the ones that came with your standard issue cuffs.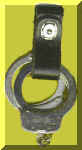 Four styles of cuff holders to keep your handcuffs safe from dirt or loss. Most available in plain, basketweave and clarino finishes.
Prices for a basic cuff strap start at just $8.98.
Sam Browne Belts
Perhaps the most recognizable gun and uniform belt in the world. We carry models with built-in D-rings for left handed or right handed use, and a model without built-in D-Rings for use as a duty belt.
Sam Browne Jr. Belts
We also have a special combination of Garrison belt and shoulder strap. Greater utitlity since it will fit jeans, uniform trousers and BDU pants.
Duty belts in unlined and lined versions plus ranger belts in sizes from 30 to 54.

These single snap (left) and double snap key keepers will fit belts up to 2¼" wide and will safely hold almost any collection of keys. We also have flap style and clip-on styles (right).
Now that you have earned that badge, keep it visible on your belt, in your pocket or around your neck.


Need to keep your ID and badge together, take a look at one of JayPee's combination cases.
Just the thing to hold your night stick or baton. We carry a basic design shown at left, as well as more specialized designs. Available in three finishes.
D-Rings
Just the thing to hold your miscellaneous gear or attach that shoulder strap. We carry several styles in nickel and black finishes.
Keeps that duty belt where is belongs. Double and 4 snap styles.
Flashlight Holders
Three styles to keep that Mag-Lite® handy
Keep protection or small items handy with JayPee rubber gloves cases and first aid pouches.