AVAIL. in
BEAR
SIZES
Other Product
Pages:
Tri-Color DCUS
USA BDUs
Imported BDUs
Flightsuit Coveralls
Fatigue Caps
Boonie Hats
SWAT BDUs
SWAT Caps
Military Belts
Products
on this page:

Other
Pages:
Military Uniforms
Liberty Uniform
Police Security EMT
Swat & EMT
JayPee Accessories
Hat and Caps
Belts
Branch Tapes
Shoulder Patches
Knife Catalog
Shoulder Bags
Duffles Bags
Sunglasses
Sundries
Surplus Gear from Uniforms Etc.

Reversible web belts with buckle.
Lower Prices!
These all cotton web belts fit all BDUs, BDU Shorts, EMT Shorts; can also be worn with jeans and other casual pants; cut tolength (usually 2-3" longer) to fit after washing for 1st time.
sizes available are 44" and 54" all colors;
64" Black, OD/Camo, City Camo/White
choice of black solid buckle (as in illustration) or black open style buckle
[compare]

or with nickel (navy only) or brass (black or khaki only) buckles
Length
Price
44"
$

2.99

54"
$3.

79

<NEW>

64"
$4.

49
colors available are:
E black
B camo/olive drab (reversible)
F olive drab/olive drab
A city camo/white reversible
C navy
D khaki

NEW Navy Blue with Nickel finish closed buckle and tip (not shown)
NEW Black or khaki with closed brass buckles and tips (not shown).
13 Jul 2006
Genuine issues G.I. and USMC Nylon pistol belts;
hold holsters, canteens, cartridge cases and more.
made in the U.S.A.
G.I. belts have quick release buckle
USMC belts have easy open plastic buckles;
come with G.I. Alice Keeper clip/belt slides;
in black and Olive Drab;

(See imported Khaki version below)

available sizes Med (up to 44")

or Lrg (up to 48");
need a larger size? check out the belt extenders below;
Imported G
.I. and

USMC

Style

Nylon

P

istol

B

elts

A quality imported version of the USMC pistol belt above. Available in black, OD and Khaki <new color>.

Belt extenders are used to add about 4" to the length of a pistol belt attaching to both sides of the belt buckle;
order the correct stylel (G.I. or USMC) to match the above belts,
| | |
| --- | --- |
| GI Belt Ext-OD or BLK | $2.95 |
| USMC Belt Ext-OD or BLK | $3.95 |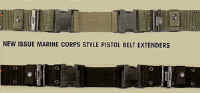 click image for illustration;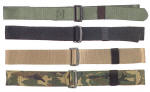 BDU Belts are an alternative solution to where to put duty gear. Single piece of 2" wide nylon with simple slide lock belt buckle; fits up to 44" waist. Will fit through belt loops on BDU pants. IMPORTED
Available in Olive Drab , black, Desert Tan and Woodland Camo
54" lengths for Olive Drab

Cordura nylon or polypropylene web duty belts are an alternative to leather duty gear belts.
We carry Uncle Mike's and Kodiak. Click on image to go there.
|Web Belts| |Wide Web Belts| |Pistol| |Extenders|
|BDU Belts| |Duty Belts|