Up
Break-Away Ties
Badges and Shields
Embroidered Patches
Handcuffs
Leg Cuffs
Transport Chains
Keys
EMT/EMS Shorts
SWAT Caps
Tactical Riot Gear
Tactical Gear Bags
NYC Apparel
Rain Gear
Sunglasses
Odds and Ends
Knives
Batons
Pro Batons
Monadnock Batons
Store Brand
Detail Pages:
General Pages:
Home
Help Page
Shop by Brand
Primary Catalog
The Professional Shop
Outfitters Pages
Feedback Form
modified: 08 Apr 2006
Spare and Specialty Keys
Additional keys from JayPee and ZAK Tool. Avoid using cheap imports that could jam or not fit. Quality lasts and pays for itself many times over.
Note: Reduced shipping charges on 1 to 3 keys
A set of unique keys from JayPee for duty use or as key rings.
Standard Features of JayPee Keys:
quality forging for long service life and jam free action;
will work with any American Handcuff, Fury, Valor or Smith&Wesson handcuff we sell;
(note: using any key not made by American Handcuff on an American Handcuff product can void the manufacturers warranty)
click on any illustration to see a larger image;

LK Oversized handcuff key in medium gloss black finish; textured surface great with gloves or oily hands.

SCK Unique handcuff key with swivel ring for other keys or key ring; glossy black and chrome finish; textured surface great with gloves or oily hands.

PRK "P-24 Baton" handcuff key in black with a split ring; has that different look.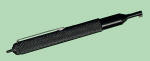 PEN Pen shaped key; heavily knurled barrel and pocket clip to keep it handy and loss free.
ZAK Tool Designed to fit the majority of standard key handcuffs (Smith-Wesson, Peerless, American Handcuff, Hyatt, JayPee, Fury, etc.), made here in the U.S.A. Most come with stainless steel tips for long duty life.
Click on image to see the full selection and prices.