Up
JayPee Products
Rothco
Smith&Wesson
Fury Imports
American Handcuff
Hiatt-Thompson
Detail Pages:
General Pages:
Home
Help Page
Shop by Brand
Primary Catalog
The Professional Shop
Outfitters Pages
Feedback Form
modified: 02 Jun 2005 [ Back ] [ Next ]
Police and Security Restraints from Fury
The Fury products consist of a budget line of restraints imported from Taiwan and of a line of Spanish Police handcuffs.
|handcuffs| |thumb cuffs| |leg cuffs|

Economy import, double lock, steel construction, uses "standard" keys; available in nickel and black finishes. with 2 keys; does not have ditched jaws; OUT OF STOCK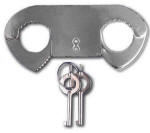 They look like a toy, but these are constructed with the same basic features as regular handcuffs; each side is opened independently and has a double locking mechanism; with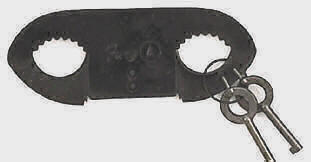 plastic carry case and two "standard" keys. In bright nickel finish or semi-gloss black.




These are an inexpensive leg cuff; layered steel construction; double locking mechanism and ditched jaws. The 17" chain is lighter weight than American Handcuff leg irons; comes with 2 "standard" keys and in nickel or black finishes.
|handcuffs| |thumb cuffs| |leg cuffs|